Injection de gel d'agent de gonflement de l'acide hyaluronique de remplisseur
Les suppléments d'acide hyaluronique consistent à injecter de l'acide hyaluronique dans le sein pour obtenir un élargissement des seins. Cette technologie est un choix préféré de nombreuses personnes. C'est une méthode sûre, indolore, rapide et pratique pour améliorer les seins.
L'acide hyaluronique pour la peau utilise une aiguille spéciale pour injecter les tissus et la peau .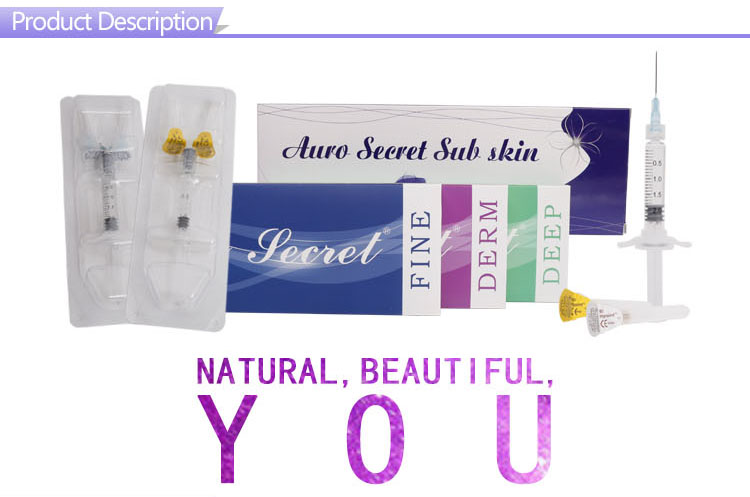 Fonction
Que sont les remplisseurs dermiques?
Mini lifting l'acide hyaluronique peut facilement éliminer vos rides du visage, telles que les rides entre les sourcils, les plis nasogéniens gênants, etc.
En général, les principales fonctions de Liquid Facelift sont l'élimination des lignes du front, des lignes des sourcils, des pattes d'oie, des lignes du cou et des autres ridules du visage.
En outre, le pli naso-conjugal, le sillon nasogénien, etc. peuvent également être remplis par Lifting Non Chirurgical , afin de restaurer le lisse et le jeune dans le passé.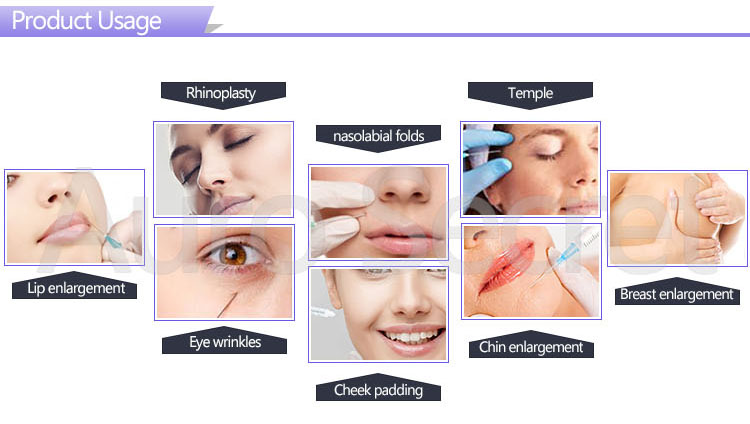 Auro Secret Fine

Needle size: 30G,Volume:1ml/2ml

Treatment:

With the smallest particles for the correction of very thin,superficial lines.

Injected in the upper part of the dermis.

For correction of thin superficial lines,such as worry lines,periorbital lines,perioral lines.




Auro Secret Derm

Needle size: 30G,Volume:1ml/2ml

Treatment:

Medium particle size for moderate wrinkles.

Injected in the middle part of the dermis.

For treatment of moderate wrinkles,such as glabella,oral commissures.

Lips fullness,pouting and vermilion border.




Auro Secret Deep

Needle size: 27G,Volume:1ml/2ml

Treatment:

Larger particles for deep folds.

Injected in the deep layer of the dermis and/or the surface layer of the subcutis.

For correcting deep folds,creating fuller lips and shaping facial contours,such as cheeks and chin.




Auro Secret Subskin

Needle size: 23G,Volume:10ml

Treatment:

Largest particles for breast and buttock.Injection for the breast and buttock augmentation.

Injected in the deep dermis or subcutaneous tissue shallow.

For the local depression,soft tissue filler,also can be used in rhinoplasty.




HA concentration:20mg/ml

Approximate number of gel particles ml: 200,000

Particle size(mm): 0.10-0.15

HA origin: Non animal

Storage: room temperature

Duration: 6-18 months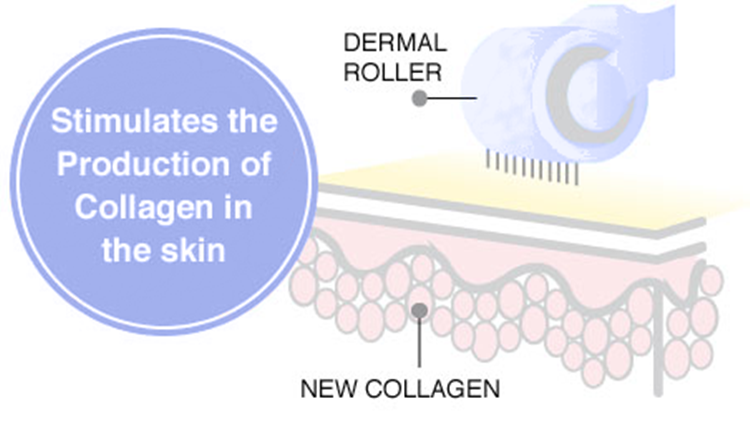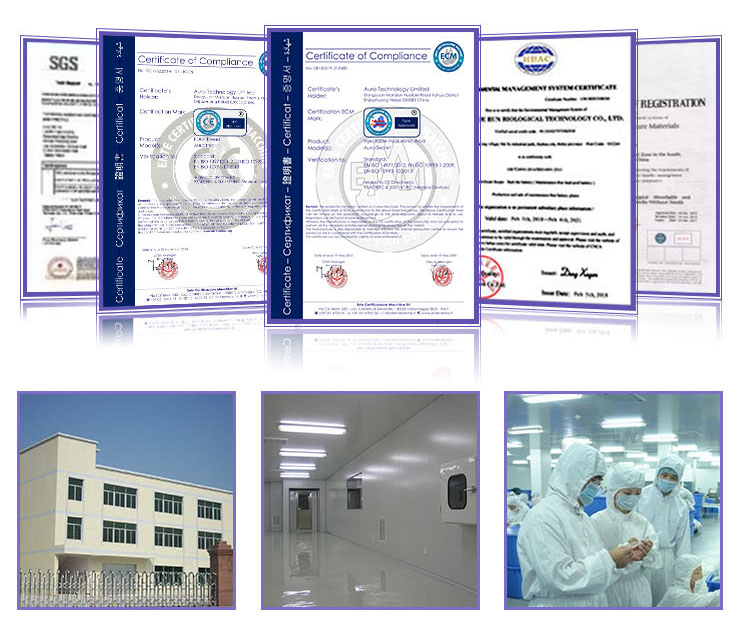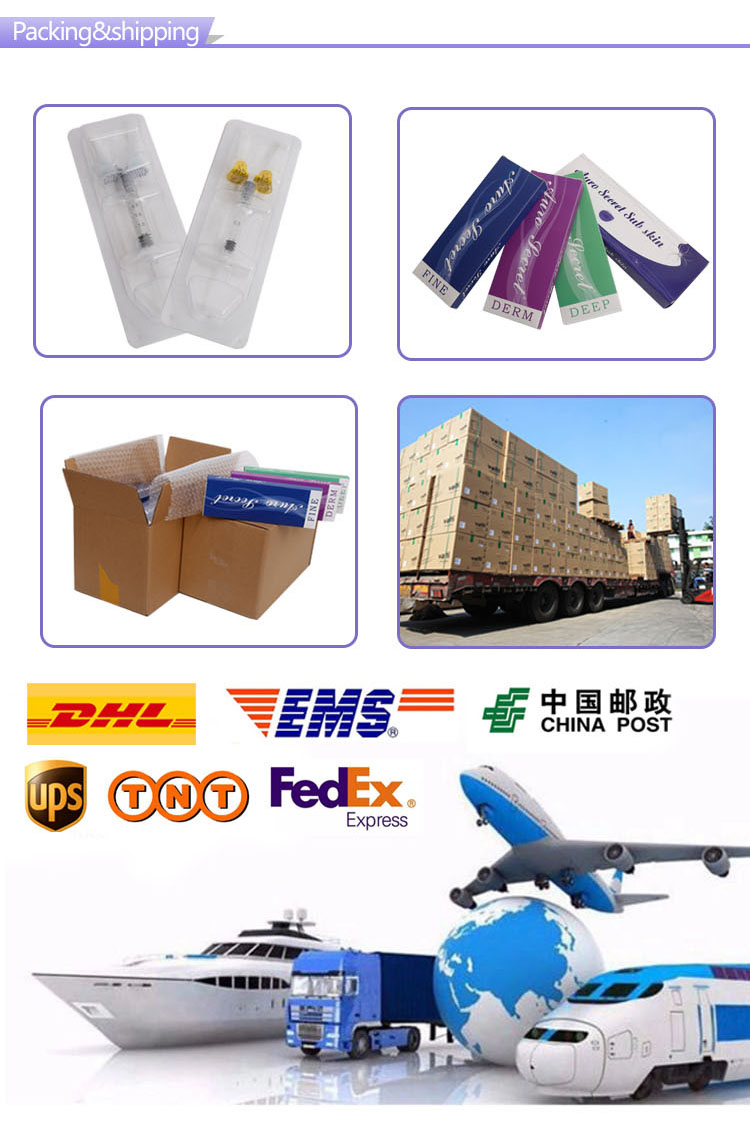 Q : Quel est le MOQ?
Un : Nous nous félicitons de petite quantité pour tester. MOQ est seulement une pièce!
Q : Puis-je mélanger différents modèles? Bien sûr! Q Puis-je ajouter ou supprimer des éléments de ma commande si je change d'avis?
Un: oui!
Q : Puis-je mettre mon propre logo (OEM)? Un oui! Q Lorsque vous expédiez ma commande?
Un : normalement 2 jours après réception de votre paiement, mais il peut être négocié en fonction de la quantité de commande. J'espère que vous pourriez comprendre!
Q : Qu'en est-il de la période d'expiration?
Un : deux ans!
Q : comment pouvez-vous garantir la qualité de la production?
Un : nous avons 12 ans d'expérience. Nous avons strictement système de contrôle de qualité dans notre processus de production. Nous avons 4 fois l'inspection pour chaque produit fini avant l'emballage.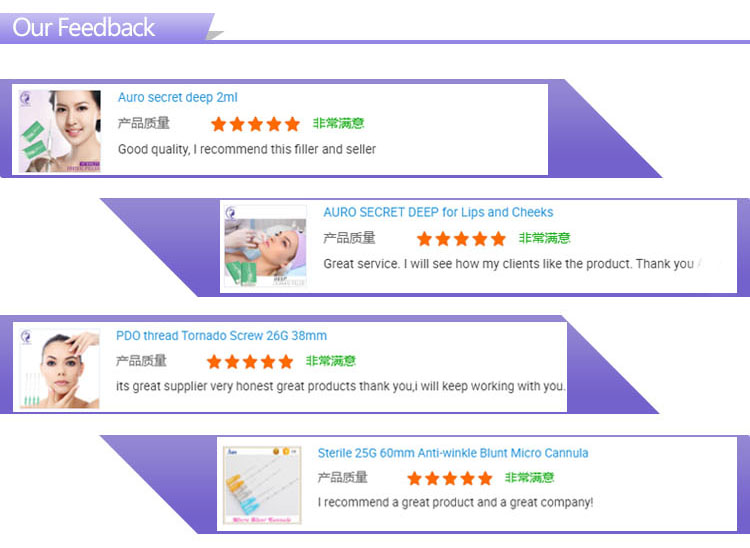 Groupes de Produits : Remplisseur dermique